I recently descended the Sturtevant Trail off the east side of Mt. Wilson, one of steepest of the Santa Anita Canyon trails.  This was the second reconnaissance trip of trails on and around Mt. Wilson's summit for the creation of the companion map to Big Santa Anita Canyon Trails Map.  The Sturtevant Trail was the original way into Sturtevant's Camp.  Wilbur Sturtevant built the trail into his camp in the early 1890′s.  Sturtevant Camp's first season of hosting guests was way back in 1893.
Sturtevant's Camp was to be the first of five resorts to be built in the Big Santa Anita Canyon and the Winter Creek.  To this day, the camp continues to host groups, making it the longest lasting trail camp from the resort days during the Great Hiking Era.
The Sturtevant Trail is identified in the Angeles National Forest's trail catalogue as 11W16.  It is approximately 2.8 miles in length and has a total elevation gain or loss of 2,500 feet between Sturtevant Camp and Mt. Wilson.  Most of the slope that the trail follows is north and northeast facing, thus is for the most part shaded.  Be ready for two great attributes to be found along this trail.  First, while still above the Halfway Rest, enjoy views out toward the High Country of the San Gabriel mountains.  You'll see Mt. Waterman, Twin Peaks, Throop Peak, Mt. Islip and even Old Baldy (Mt. San Antonio).  In the areas just south of Mt. Waterman and Twin Peaks, you'll see the San Gabriel Wilderness drainage of Devil's Canyon.  All of this is visible just above the north rim of the Big Santa Anita Canyon.  The second, and much closer treat, is the realization that you're hiking amidst and under the canopies of very large Big Cone Spruce.  The area in and around the Halfway Rest is a particularly beautiful example of a mature forest of big cone spruce, canyon live oak and big leaf canyon maple.  There's a park like expansiveness to be found on this slope in the extreme upper end of Big Santa Anita Canyon.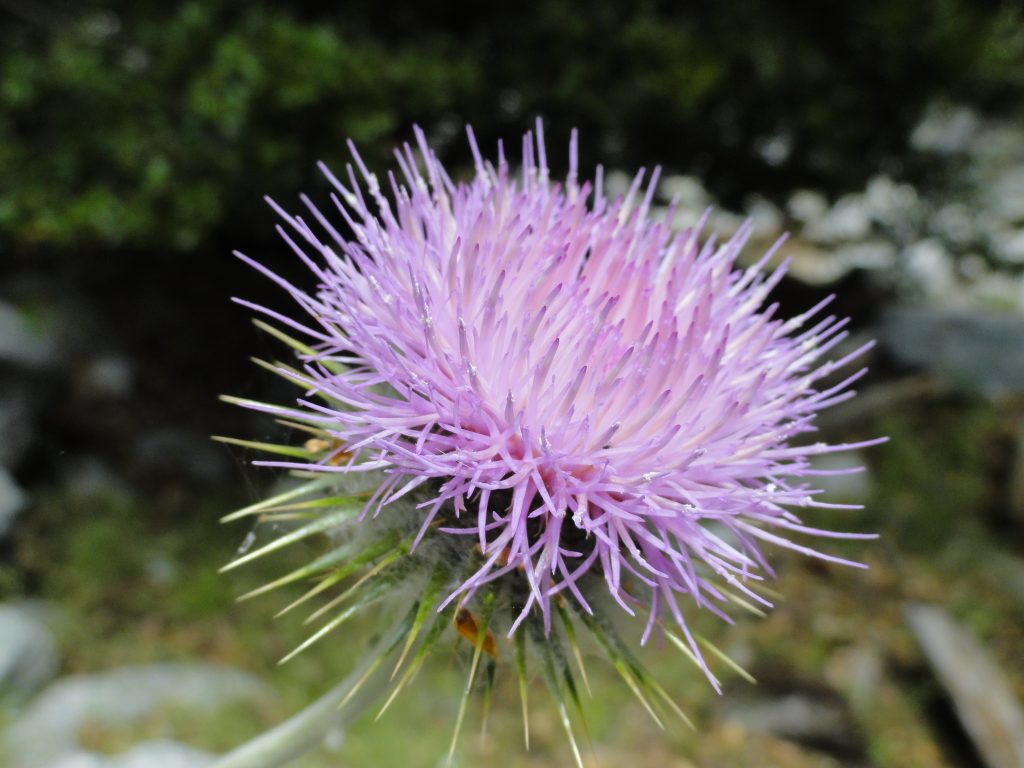 The day I did my round trip down and back on the Sturtevant Trail, I stopped for lunch along a wild and untouched section of the stream bed just up from Sturtevant Camp.  I found this thistle just above the dry sandy and bouldery bed.