Just last Friday evening, my wife and I were hiking between Chantry Flats and Roberts' Camp when we encountered a healthy-looking scorpion crossing the pavement in San Olene Canyon.  It had been a long time since last seeing one of these fascinating creatures.  Also, I had forgotten just how fast they can run!  Fortunately, he/she stopped just long enough for me to take this picture.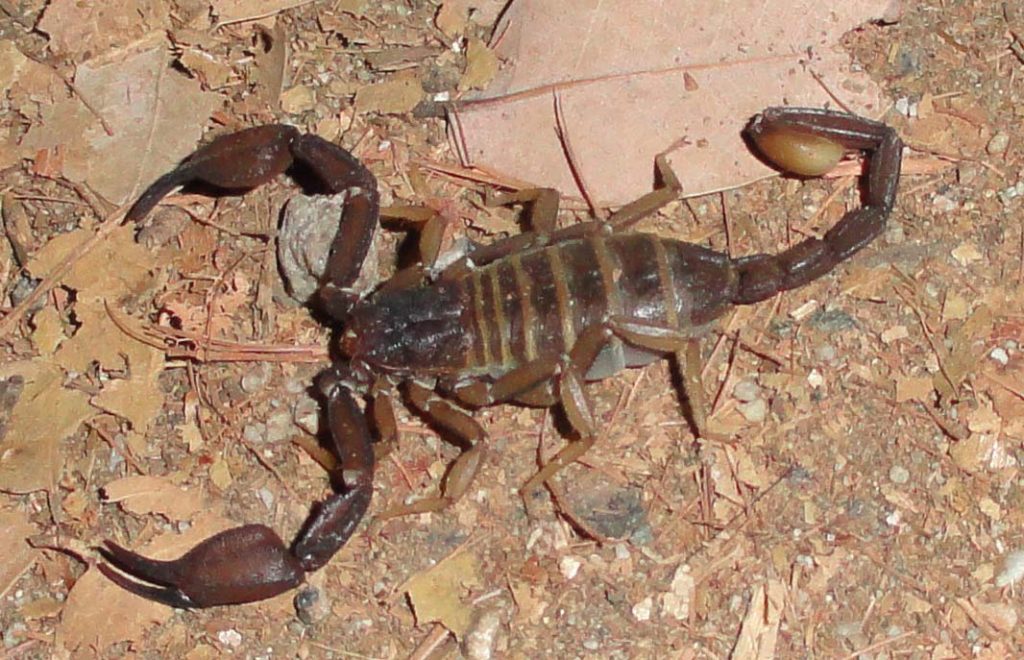 As a kid, I remember seeing an occasional scorpion out on the Lower Winter Creek trail during warm summer evenings back in the 1970′s.   Back then, it was usually our custom to sleep out under the stars on a tarp in our sleeping  bags.  Although I never had a scorpion get into my sleeping bag, I did once have one get into my bed up at Colby Ranch in the middle of the Angeles National Forest.  It was 1981 and I had just been hired as one of the summer staff at Camp Colby.  I lived alone in an old house on a hill above the camp's swimming pool.  The walls were of knotty pine and the view out the large living room windows looked out across both Coldwater and Upper Big Tujunga Canyons toward Mt. Gleason and Mt. Pacifico.  No one had lived in that old house in a long time.  One day we moved a refrigerator than had been sitting in another building for some time up into my place.  Now I was really living!  Keep in mind, I was 19 years old and feeling VERY independent that summer…
The next morning after the fridge had been delivered, I was laying in bed and had been awoken to the raspy calls of Stellar Jays making a racket on the eves above my bedroom.  My "just awoken" vision was blurry as I lay there on my back and threw aside a single bed sheet that I had slept under.  Fortunately, I looked down and saw what appeared to be a potato bug resting between my legs…. My eyes said potato bug – my brain said scorpion!  Somehow I jumped out of bed instantly without getting stung.  As I stood there on the carpet, looking down at the bed, the scorpion spun around and ran off the side of the bed and onto the floor.  I managed to quickly run over to my little kitchen and grab a drinking water glass which I trapped him in.  For awhile I made a pet out of him before his release back out into the chaparral.  We must have inadvertently brought him into the house in the under carriage of that old fridge the day before.  I'll never know.  I was so affected by my evening with the scorpion that to this day when we're in the Big Santa Anita Canyon, the sheets are always pulled way back for a cursory inspection for companions before crawling under the covers for the night.  Some adventures stay with us for a long, long time.  As a side note, the house that I had this experience in was called the Hill House.  It burned to the ground in the 2009 Station Fire.  My zodiac sign is  scorpio.