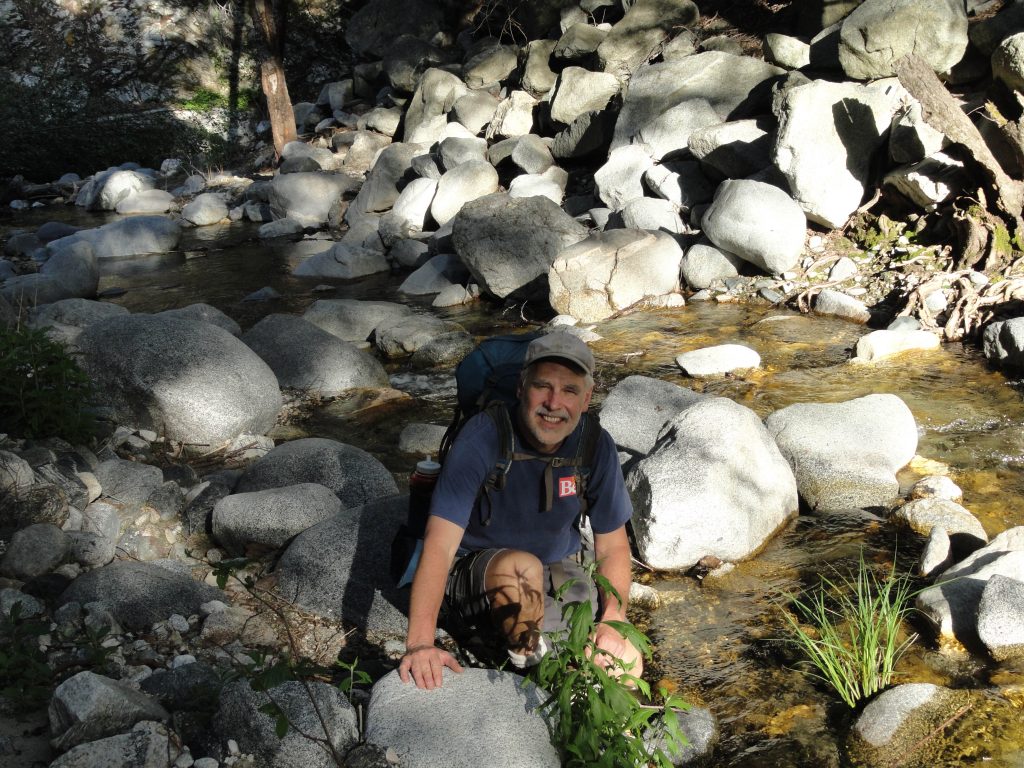 My sense of home in the Big Santa Anita Canyon began in 1974 when I was 12 years old. Within 24 hours of first seeing the place during a family picnic on a hot June day, I was on my first backpack trip to Hoegees with a friend of the same age. My curiosity and enthusiasm for this part of the Angeles National Forest and the other haunts of these beautiful San Gabriel Mountains continues to this day 44 years later!
Besides hiking to as many places as my legs would carry me, I became a volunteer for the U.S. Forest Service at the Chantry Flats Ranger Station. During my volunteer activities, repairing and improving hiking trails became a passion. My interests in trails soon led to exploring the remnant sections of the long abandoned Mt. Zion trail that connects Sturtevant Camp with Hoegees. Soon the desire to rebuild the old trail took root and several years of weekends would find me along with my friends Bohdan and Howard rebuilding the old trail between Sturtevant's and Mt. Zion back in the 1970′s
Besides working on the trail, I enjoyed spending time hanging out around the Adams Pack Station at Chantry Flats. For two summers I lived in the bunk house and learned much about the delicate dealings of working with a pack train of mules and donkeys. Nearly everyday Bill Adams and I would weigh and balance loads for the pack animals, negotiating steep grades, tight turns and stream crossings to cabins, campgrounds and Sturtevant's Camp.   Bill taught me how to take a mid-day nap on the top of campground picnic tables without getting bitten by the deer flies!  Somehow all the trail dust, shoveling manure, feeding the animals and the scent of chaparral got into my blood for good, creating a sense of place that remains to this day.
During the 80's I earned a bachelor's degree in Geography from Humboldt State University. It was here where I first learned the "art & science" of cartography. I briefly worked as a cartographic drafter for Thomas Bros. Maps in Irvine, CA. In serious need of additional outdoor contact, I left Irvine for a seasonal park ranger position in Sonoma, CA. From here, my worklife dove tailed into a year-round position managing a United Methodist camp in Wrightwood, CA where I had worked summers while in college.
In the early 90's, I became the camp manager of Sturtevant's Camp, a place where we'd host user groups and do all that comes with maintaining a camp in the Big Santa Anita Canyon for 20 years. During these years, I've continued on with my journey of exploring as many canyons as possible in the San Gabriel Mountains. The use of topographic maps and compass always play an important part of navigating both on and off the trail. I love all kinds of maps! Many of these hikes are done cross country, which continues to be one of my favorite activities.
For the last 29 years my wife Joanie and I have lived in Wrightwood, CA in the northeast corner of the San Gabriel Mountains. We frequently visit the Big Santa Anita and other favorite places in the Angeles National Forest.