Hike Details for   –    WRIGHTWOOD'S HEATH CREEK
Distance and elevation gain / loss:  Approximately one mile (one way) with 400′ of elevation gain.
Follow the gated dirt road that runs atop levee on north side of Heath Creek stream bed.
Hike begins on Thrush Rd, just east of the tee intersection with Victorville St.  Walk up the dirt road  just west of Heath Creek bridge.  There's a silver colored pipe gate just a short distance above Thrush.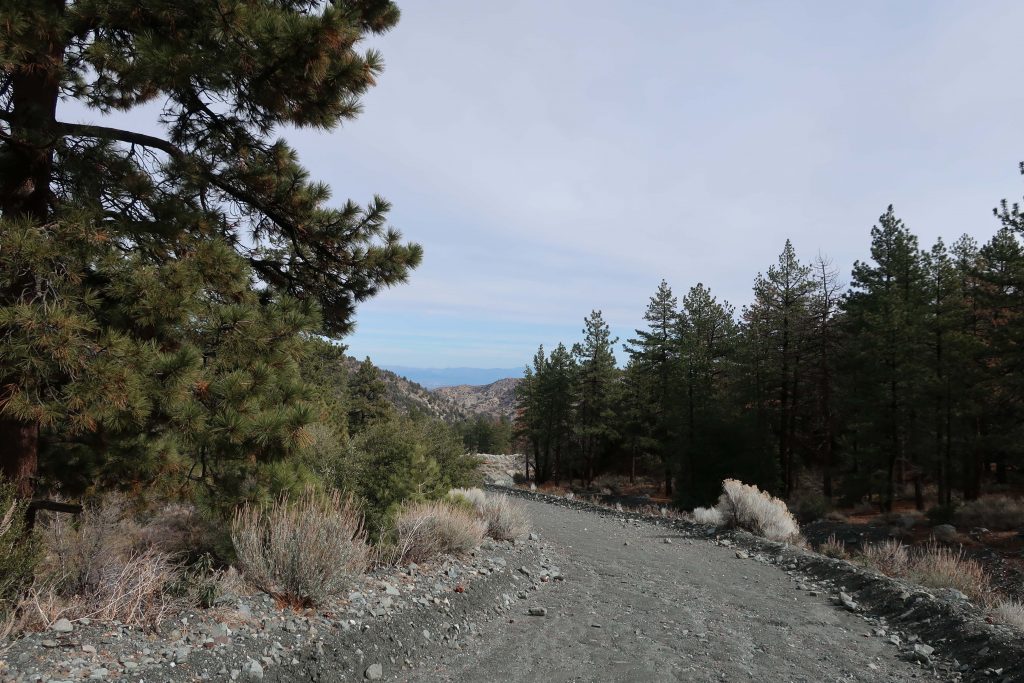 One of the major canyons dropping into Wrightwood's Swarthout Valley is Heath Creek.  It's the canyon that begins as the large, conspicuous slide on Wright Mountain's north side.  The slide, dropping straight down from the summit is especially prominent from downtown Wrightwood.  If you're outside the post office or Mountain Hardware and looking southward, there's a really good view of the slide, with Wright Mountain's pine covered summit just to the left of it (elev. 8,505′).  The canyon is named after Harry Heath who homesteaded the east end of the Swarthout Valley, near present day Pacific Crest Estates,  back in 1886.   Back then, Heath Ranch (circa 1900-1919) had a dairy, as well as boasting an orchard of apple and pear trees irrigated with water conveyed from a stream intake in the watercourse that today bears his name.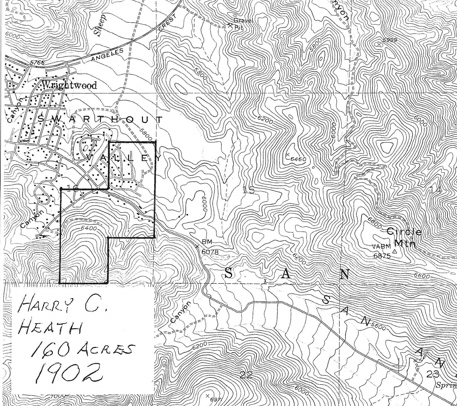 Pat Krig, a long-time Wrightwood pioneer and historian, wrote down some notes about the Heath Ranch which she visited on horseback as a young girl.  The Wrightwood Historical Society generously provided me a copy of her notes from 2006 which portrays what little is known of Harry Heath's ranch.  Unfortunately, there were no photos of either Heath or his ranch.   One paragraph in Pat's reminiscences that in particular stood out to me, was this: "A few of the gnarled apple trees still stand, bearing fruit and bringing memories of hot apple pies for tired travelers, and offers of a pitcher of fresh milk, thick cream for coffee, and butter to spread on warm, fragrant bread then slathered with pumpkin butter."  Pat wrote this back in 2006.  Sadly, Pat passed away just this last year, taking with her memories of an earlier time in the mountains that we can only faintly imagine.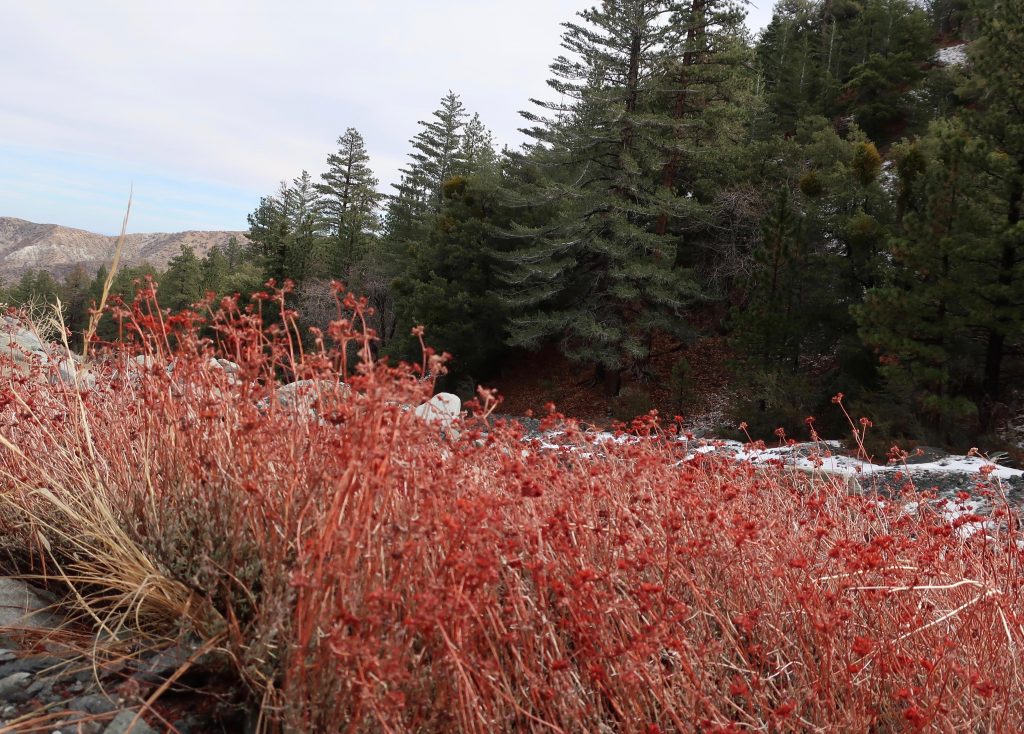 Pearl Comfort Fisher, who wrote "The Mountaineers" back in 1972, provides a brief glimpse into a cowboy's visit to the Heath Ranch back in 1907.  The cowboy was Harvey Cheesman, hired to round up stray cattle from the nearby Lovejoy Springs Ranch.  "So it happened that as I came over the divide from Lone Pine Canyon one cold February late afternoon I found the ranch or homestead of Harry Heath at the head of Sheep Creek.  Upon knocking at the door I was met by a lady with a small baby in her arms.  It was Mrs. Heath.  She said, "'My, am I glad to see some one.  A mountain lion has been prowling around here for three nights and my husband is away working, and I am afraid the lion will get some of our pigs and chickens.  "No lion showed up that night and I had to go on my way the next day."
Today, it's hard to imagine Wrightwood as wild and isolated as it must have been 112 years ago.   The upper half of this hike will give you a taste of a quieter more forested Swarthout Valley.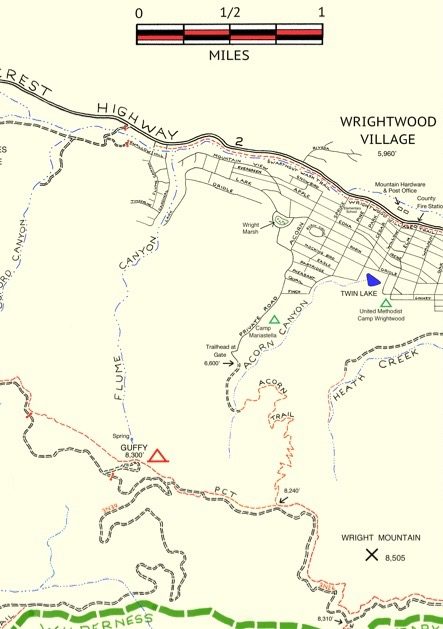 This walk is a great one if you just have a little time, say less than an hour and you'd like to get some hill climbing in, too.   You're walking on a flood control levee road.  The beginning of your trip is a bit exposed to the sun and completely devoid of trees, much of the landscape down in the wash to your left has a sterile, bleak look due to constant grading from county bulldozers.   Not that great at first. . .   Hang in there,  the bleakness soon ends.  Your route soon encounters black oaks, Jeffrey and Ponderosa pines on both sides of the levee road.  An enticing flat makes its' presence across the stream on your left.  On your right is a gentle, expansive alluvial slope covered in a healthy pine forest.  Mostly private, undeveloped land, this terrain gives you a sense of what Wrightwood must have been like in the 19th century.   On a warm day, the air is fragrant with pine and amazingly quiet, save the occasional song bird or acorn woodpecker tapping high above the forest floor.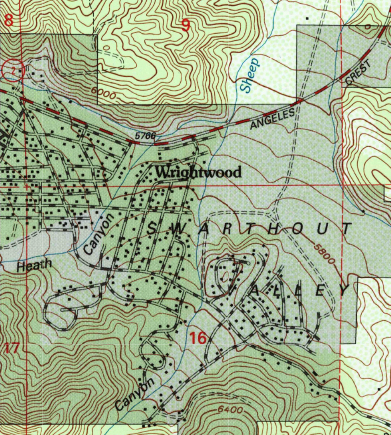 After a mile, you'll encounter another silver painted pipe gate.  This is your turnaround point.  If you have the time, continue further up along the road to a set of four wooden benches set in a square configuration.  Walk on past this gathering area, bearing left and staying with the canyon bottom.  Follow a deeply eroded trace of a former jeep road.  Essentially now a trail, continue on up the canyon for another 400′ feet of elevation to the trail's end on a rocky berm above the stream bed.  You will also see a little frame structure made from lashed together cedar trunks and limbs.